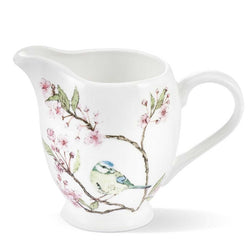 Blue Tit on Blossom Creamer Jug
Inspired by the abundance of nature and wildlife that lies at the heart of Mosney, Mosney Mill as a business was launched in October 2016 by Emma with the continuous love and support of her family, her father and husband who are fellow directors of the business.
Emma picked up her pencils and began to draw animals from the gorgeous scenery she was immersed in. A range of whimsical animals began to emerge, each with a story and a special place on the family's 11 acres of Lancashire countryside.
Sitting at a desk in her studio, which overlooks the land at Mosney, she can watch deer, dozens of varieties of birds, butterflies, the odd bunny and a variety of other wildlife. She has coined names for many of them and brought them to life through her illustrations printed onto different ranges of fabrics, wall coverings, bone china, stationery and kitchenware.
There's Mosney Bob, a little robin who follows Emma around the land and twitters to her from a tree each morning at the chicken coop. There's also Reg the pheasant, other birds and, butterflies and wildlife that call Mosney home and a range featuring Mosney Roe deer, inspired by that very first encounter.
"My business is built around a love of my home. "Home at Heart" is the sense of belonging I got instantly when I first arrived on Mosney and where I gain all my creative inspiration. Mosney Printworks was the birthplace of modern textile printing, and as an artist, it is my dream to revive this rich heritage." – Emma Sutton
This product is dispatched to you by Great British Products. Free shipping is available on UK orders dispatched by Great British Products over £40.
Express Delivery | £6.50
Delivery next working day after dispatch
Standard | £3.95
Delivery up to 5 working days after dispatch
International Delivery | £12.50
Delivery up to 7 working days after dispatch
Worldwide Delivery | £20.00
Delivery up to 10 working days after dispatch
USA & Canada Delivery | £30.00
Delivery up to 10 working days after dispatch
You have 28 days, from receipt of cancellable goods, to notify us that you wish to return your order. Please see our Returns Policy for more information on which products can and can't be returned.
See our Delivery Information page for more info on delivery locations.

Every order plants 1 tree
We've partnered with Ecologi, a certified B environmental organisation that's fighting climate change by planting trees & funding the world's best climate crisis solutions. Every single order that we receive plants a tree, funds carbon reduction projects and helps fight climate change.

Every order supports british made
Our mission is to support our local economy and to promote British-made products, getting local British brands recognised and helping them become more accessible. Showcasing and demonstrating the power, quality and skill of brilliant British craftsmanship and manufacturing.