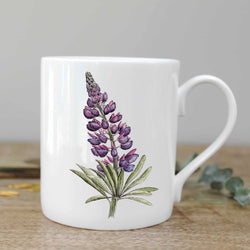 Lupin Fine China Mug in a Box
They say beauty is in the eye of the beholder; however when you are surrounded by such stunning countryside it's hard for anyone not to fall in love with it. Their Creative Director and Founder, Jo Clarke, is continually inspired by the great outdoors and captures the glory of British nature through her contemporary watercolours.
At Toasted Crumpet they are passionate about bringing that beauty indoors, to enjoy time and time again, whether that's by receiving one of their luxury greetings cards or by sipping your morning coffee from one of their elegant fine bone china mugs. Toasted Crumpet has a dynamic eye-catching range of beautifully designed stationery & giftware.
Jo's love of the British Countryside stems from a rural upbringing on her parents' farm. Having worked as a Chartered Accountant in the city, her creations are now mainly inspired by the time spent with her young boys, exploring the parklands and woodlands around Surrey.
Toasted Crumpet is extremely proud to produce it's full range of products exclusively in Britain.
This product is dispatched to you by Great British Products. Free shipping is available on UK orders dispatched by Great British Products over £40.
Express Delivery | £6.50
Delivery next working day after dispatch
Standard | £3.95
Delivery up to 5 working days after dispatch
International Delivery | £12.50
Delivery up to 7 working days after dispatch
Worldwide Delivery | £20.00
Delivery up to 10 working days after dispatch
USA & Canada Delivery | £30.00
Delivery up to 10 working days after dispatch
You have 28 days, from receipt of cancellable goods, to notify us that you wish to return your order. Please see our Returns Policy for more information on which products can and can't be returned.
See our Delivery Information page for more info on delivery locations.

Every order plants 1 tree
We've partnered with Ecologi, a certified B environmental organisation that's fighting climate change by planting trees & funding the world's best climate crisis solutions. Every single order that we receive plants a tree, funds carbon reduction projects and helps fight climate change.

Every order supports british made
Our mission is to support our local economy and to promote British-made products, getting local British brands recognised and helping them become more accessible. Showcasing and demonstrating the power, quality and skill of brilliant British craftsmanship and manufacturing.