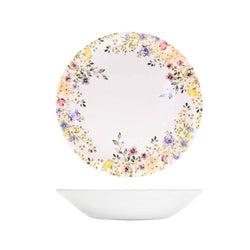 Imperfect - Wildflower Bloom 20cm Bowl
Great British Potters since 1795.
Churchill prides itself on delivering innovative, high-performance products to an ever-changing, global marketplace. Their priority lies with the offering of a total tabletop solution to a market that demands the best results from its tableware.
As one of the world's leading manufacturers of high-quality ceramic tableware, Churchill has a long history of bringing the highest quality products to the hospitality industry. Based in Stoke-on-Trent, the heart of the Potteries since 1795 as one of its constituent companies, Sampson Bridgwood, Churchill has progressively developed, building a strong reputation as an innovative and reliable supplier of quality tabletop products. 
Today, using a blend of rich historical experience and a willingness to embrace the latest technological advancements, the Churchill brand has solid global recognition and a strong manufacturing reputation. Their international presence is ever-expanding. To date, Churchill products are used in hospitality establishments in over 70 countries worldwide.
With all its success comes a well-established family history too. The Roper family still hold a significant share of the business, ensuring the traditional values of the company remain upheld.
This product is dispatched to you by Great British Products. Free shipping is available on UK orders dispatched by Great British Products over £40.
Express Delivery | £6.50
Delivery next working day after dispatch
Standard | £3.95
Delivery up to 5 working days after dispatch
International Delivery | £12.50
Delivery up to 7 working days after dispatch
Worldwide Delivery | £20.00
Delivery up to 10 working days after dispatch
USA & Canada Delivery | £30.00
Delivery up to 10 working days after dispatch
You have 28 days, from receipt of cancellable goods, to notify us that you wish to return your order. Please see our Returns Policy for more information on which products can and can't be returned.
See our Delivery Information page for more info on delivery locations.

Every order plants 1 tree
We've partnered with Ecologi, a certified B environmental organisation that's fighting climate change by planting trees & funding the world's best climate crisis solutions. Every single order that we receive plants a tree, funds carbon reduction projects and helps fight climate change.

Every order supports british made
Our mission is to support our local economy and to promote British-made products, getting local British brands recognised and helping them become more accessible. Showcasing and demonstrating the power, quality and skill of brilliant British craftsmanship and manufacturing.