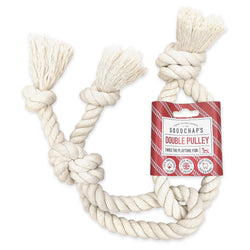 Everyone at Goodchap's believes that dogs deserve only the best. So in 2018, they developed a range of treats and gifts that every hound and human would love, so you can show your four-legged friends just how much they mean to you.
They are constantly developing new and exciting dog products with their team of designers, developers and innovative thinkers. But perhaps their most important team members are their pack of tiptop treat tasters led by their chief treat taster, Ralph. He's constantly working to make sure they have products that are the best in show.
As well as making sure their treats and gifts are fit for man's best friend, they also care about the planet, so they made sure all of their packaging is plastic-free, biodegradable and eco-friendly. This way, every time you're out for a doggy paddle in the sea or walking in the countryside, you can be sure you won't find any plastic pollution from Goodchap's!
This product is dispatched to you by Great British Products. Free shipping is available on UK orders dispatched by Great British Products over £40.
Express Delivery | £6.50
Delivery next working day after dispatch
Standard | £3.95
Delivery up to 5 working days after dispatch
International Delivery | £12.50
Delivery up to 7 working days after dispatch
Worldwide Delivery | £20.00
Delivery up to 10 working days after dispatch
USA & Canada Delivery | £30.00
Delivery up to 10 working days after dispatch
You have 28 days, from receipt of cancellable goods, to notify us that you wish to return your order. Please see our Returns Policy for more information on which products can and can't be returned.
See our Delivery Information page for more info on delivery locations.

Every order plants 1 tree
We've partnered with Ecologi, a certified B environmental organisation that's fighting climate change by planting trees & funding the world's best climate crisis solutions. Every single order that we receive plants a tree, funds carbon reduction projects and helps fight climate change.

Every order supports british made
Our mission is to support our local economy and to promote British-made products, getting local British brands recognised and helping them become more accessible. Showcasing and demonstrating the power, quality and skill of brilliant British craftsmanship and manufacturing.